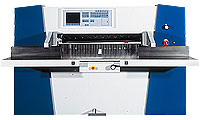 WOHLENBERG GUILLOTINE SERVICE & PARTS
We specialize in expert service on Wohlenberg Guillotines. &nbsp For over 25 years we have been providing Quality Service and stock the most Extensive Inventory in our service van, so your machine can be back in operation the same day we arrive in most cases.
We have over 1000 different parts for your Guillotine in our service van. This is a very comprehensive inventory of the most common, necessary components--including all the circuit boards for Sys 85 &nbsp - &nbsp 90 machines. Our check-out procedure is the most comprehensive of its kind, covering all major trouble spots--preventing future down time.
Wohlenberg Parts
DO YOU OWN ONE OF THESE MACHINES? DO YOU NEED PARTS,TECHNICAL INFORMATION OR A SERVICE VISIT GIVE US A CALL!!! 516 867 7810
MCS TV systems 85
One of the First Guillotines manufactured with a TV Screen and Fully Microprocessor controlled. These machines were manufactured Between 1985 and 1986


MCS TV ALPHA sys. 86

Machines Built post 1986 Featuring more features than its predecessor including automatic main motor winding change over,automatic programming, fully automatic clamping, multiple language options built in, as well as other upgradable features.

MCS TV sys 90

Machines built after 1990 Rack style control to replace the relay board. Features included automatic ream ejection control and other operator friendly features.


CUT TEC 115 and Baumann handling system
Machines with a completely new control system. Featuring a PC based control unit, a flat screen LCD display, fiber optic connectivity and no joy stick for the first time in Wohlenberg history.

Hard to find Wohlenberg Components
We are the source for all your Wohlenberg needs. We specialize in Replacement parts. We have the experience to know what part you really need! Saving you time and money.